Retro Stuff
I grew up with the web of the 90s and early 2000s. With Geocities, FTP, Microsoft FrontPage, Netscape Navigator, CuteFTP, Winamp, Napster and personal websites. I often get nostalgic about all that. If you do too, you might enjoy this collection of things from that era.
Built With
The design of this website itself is a tribute to websites of that period.
Most of the animated GIFs on this site are from
Internet Archive's GIFcities, a searchable repository of animated gifs from old Geocities websites.
Every single page is hand-coded and hand-linked, right down to the RSS feed (if you find errors, please

let me know). It's hosted on

Neocities, a modern-day Geocities-like web host where you can find and follow lots of other old-school websites.
Websites and Resources
These are websites related to either archiving, documenting or keeping alive the spirit of the 90s/early 2000s web and computer culture:
Want to experience the the 90s and early 2000s first-hand? Here are some tools and utilies to get you started:
Winamp skins, Games and Music
This page is under construction. I have a lot more stuff to add and will be doing so over time. Be sure to check back every once in a while.


Guestbook
Of course this website has a guestbook!

What do you think about this page? Do you have a 90s thing that you'd like to see added? Or you just have a comment maybe. You can sign my guestbook or you can read what others have written.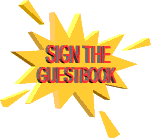 —
← back home